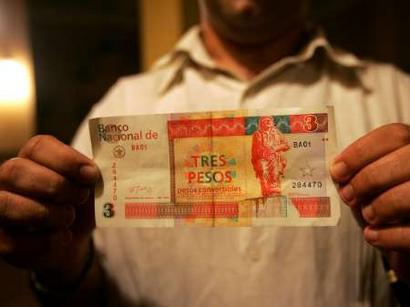 * Cuba: More reforms in Cuba; this time, the government will scrap a system of equal pay for all and will allow workers to receive performance bonuses.
* Uruguay: Approximately a dozen dead penguins have landed on Uruguayan shores as a nearby oil spill continues to threaten the wildlife in that country and Argentina.
* Mexico: One girl was killed after she was used as a human shield in a shootout between rival drug gangs.
* Argentina: The country's government has allowed farmers to export one million metric tons of wheat in order to calm simmering tensions.
Sources- BBC News, Monsters & Critics, The Latin Americanist, Bloomberg, MSNBC
Image- China Daily ("A Cuban waiter holds a three convertible Cuban Peso note, with an image of late guerrilla leader Ernesto 'Che' Guevara, in Havana, October 25, 2004.")