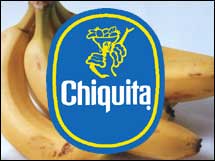 According to an article in yesterday's Houston Chronicle, the relationship between the Colombian division of Chiquita Brands International and right-wing paramilitaries hired for security may have been more cordial than at first thought. Colombian Attorney General Mario Iguaran said that the link was more of a "bloody pacification" where Chiquita willingly and gladly paid paramilitary leaders to provide security against leftwing guerilla groups.
Often the security provided was brutal and banana workers continue to live in fear:
"Even though some 31,000 paramilitaries have disarmed under a government peace process, banana workers in Uraba speak about them in hushed tones because small bands of the gunmen continue to patrol the area. One field hand who asked not to be otherwise identified cut short an interview with a reporter at a restaurant in Apartado, the main town in the region, when a stocky man approached the table and looked him in the eye.

'I saw him kill three people,' the worker whispered before slipping out of the restaurant".
The Houston Chronicle article comes days after a former paramilitary chief admitted to receiving nearly $2 million in payments from Chiquita and predicting that the Chiquita case is "news today and will be forgotten tomorrow."
Links- Houston Chronicle, Taipei Times, The Latin Americanist
Image- CNN Money