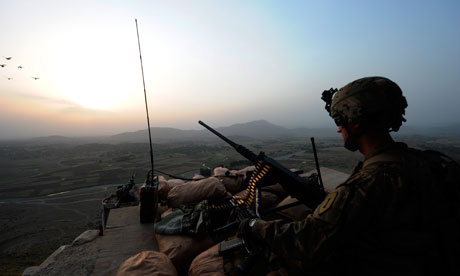 * Afghanistan:
President Barack Obama will reportedly announce tomorrow that 30,000 troops
will be withdrawn
from Afghanistan by November 2012.
* Greece:
The Greek parliament approved by a very narrow margin a
vote of confidence
in the government led by prime minister George Papandreou.
* Syria:
The E.U.
may extend sanctions
against Syria while several people died during clashes between pro- and anti-government protesters.
* U.S.:
In a
rare unanimous vote
all 100 members of the U.S. Senate backed Leon Panetta's nomination to become defense secretary at the end of this month.
Image – Ted Aljibe/AFP/Getty Images via
The Guardian
("A US soldier from Viper Company (Bravo) on guard in Khost province in the east of Afghanistan on 21 June as President Barack Obama plans to withdraw troops.")
Online Sources- CNN, Voice of America, Reuters, The Guardian