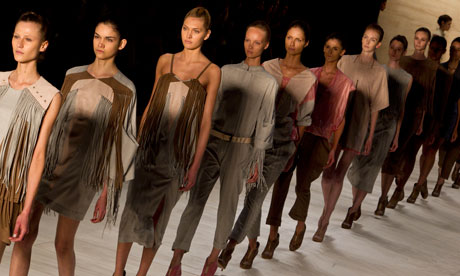 * Brazil:
Protests
have been held
over the lack of racial diversity at Sao Paulo fashion week after fashion labels reportedly ignored a racial quota put in
place since 2009
for Afro-Brazilian models.
* Cuba:
Most Cubans were
unable to identify
several prominent dissident figures according to a 2008 survey conducted by U.S. officials and recently uncovered by WikiLeaks.
* Guatemala:
Authorities arrested a former army chief who served during the infamous military government of Efrain Rios Montt and accused him of
human rights abuses
.
* U.S.:
German magazine Der Spiegel claimed that
FIFA is investigating
three high-scoring Gold Cup games due to "suspicious betting patterns" in Asia.
Image – Nelson Almeida/AFP/Getty Images via The Guardian ("Models at the Huis Clos show at São Paulo fashion week in Brazil.")
Online Sources- BBC News, MiamiHerald.com, ESPN, The Guardian, The Latin Americanist