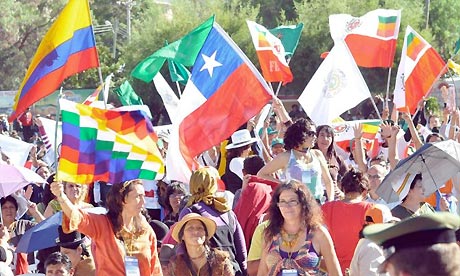 Could Bolivia and Mexico be instrumental in jumpstarting stalled global climate negotiations?
"We need to show the world how
serious the threat
is," Mexican President Felipe Calderon declared at the opening of a global climate change summit co-hosted with Germany. With Mexico as the site of a U.N.-sponsored conference on the environment in December, Calderon emphasized the need to break distrust between poor and wealthy nations. "A preparatory job before Cancun will be to find
a basis of trust
for all countries that will be present in Cancun so that no one feels left out," German Chancellor Angela Merkel said at the Petersberg Climate Dialogue that will end tomorrow.
Last month, meanwhile, a
"people's conference"
on climate change was held in Bolivia with the participation of over 20,000 people from around the world. Though the summit was overshadowed by Bolivian president Evo Morales' juvenile remarks on chicken and gays the meeting
sought solutions
ahead of the aforementioned Mexican conference:
Participants in a conference on climate change are demanding 300 billion US dollars in annual compensation from wealthy countries and transnational companies to deal with the effects of global warming…

They proposed a reduction of greenhouse gas emissions by 5% by 2020 and the creation of an international climate court to penalize countries that do not reduce their emissions.

Image-
Guardian UK
("Hundreds of delegations from different countries participate in the World People's Conference on Climate Change and the Rights of Mother Earth in Bolivia.")
Online Sources- The Press Association, sify.com, AP, People's Daily Online