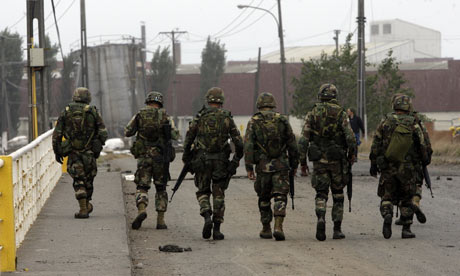 * Latin America:
Peru, Colombia, and Chile are three of the fourteen countries that will take part in this summer's Rim of the Pacific
military exercises
.
* Cuba:
With the help of the local Catholic Church dissident group the Ladies In White were permitted by officials to continue their
weekly Sunday protests
.
* Bolivia:
The government nationalized
four electricity firms
to go along with the 2006 takeover of the hydrocarbon sector.
* Brazil:
The Brazilian Supreme Court voted against modifying a
1979 amnesty law
that has protected officials from the country's previous military dictatorship.
Image – Guardian UK (Soldiers guard the streets of Talcahuano, in southern Chile, after (February's) earthquake.")
Online Sources- UPI, New York Times, Guardian UK, MSNBC