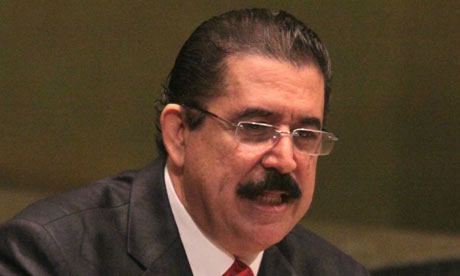 Could a
truth commission
be a positive step in healing Honduras' political divisions since last year's ouster of Manuel Zelaya? This is the hope that the panel's domestic and international supporters have.
The truth commission was set up by President Porfirio Lobo and has the backing of several world leaders including US President Barack Obama and UN Secretary-General Ban Ki-moon. "The commissioners have a
grave responsibility
before them, but theirs is only one small part of the effort needed to heal the Honduran nation," said Ban earlier today at the group's inauguration.
Critics of the truth commission have doubts over the group's effectiveness and point out that the panel's members
are "too loyal
to the conservative faction in Honduras." Hindering the commission's efforts of political healing will be that the final report will be completed in 2011 and certain information will be kept away from the public
for a decade
.
Honduras has not had an easy road to recuperating
international trust
since Zelaya's outer nearly a year ago:
Honduras was kicked out of the OAS after the coup. Secretary General Jose Miguel Insulza, who will attend the inauguration of the commission tomorrow, has said Honduras should allow Zelaya's return from exile. Brazil and Argentina are among Latin America countries that have yet to recognize Lobo because he was elected last in a vote overseen by the coup- installed government.

Image-
Guardian UK
Online Sources- BusinessWeek, United Nations, BBC News, Radio Netherlands Worldwide, Washington Post