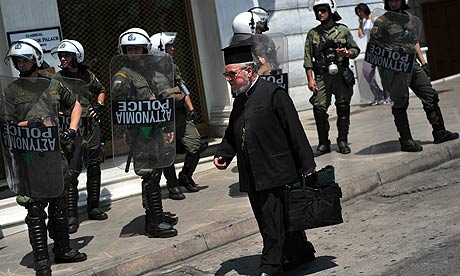 * Greece:
The Greek government signed off on
an austerity plan
yet at least 50,000 people went on strike and there have been violent protests in Athens.
* Nigeria:
Acting president Goodluck Jonathan was sworn in as
Nigeria's new leader
after his predecessor, Umaru Yar'Adua, died on Wednesday.
* Thailand:
Anti-government protests continued in Thailand though a
reconciliation deal
proposed by the country's Prime Minister could ease tensions.
* U.S.:
The man supposedly behind a
failed bomb attack
in Times Square has reportedly been cooperating with investigators but has yet to reveal his precise motive.
Image – Guardian UK
Online Sources- BBC News, Guardian UK, Reuters, MSNBC