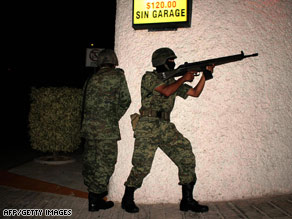 * Mexico:
Eighteen people were gunned down in a shootout between
drug gangs and soldiers
in Acapulco.
* Latin America:
The number of swine flu cases
has increased
in Argentina, Uruguay, and Nicaragua while a
second Chilean died
from the virus.
* Puerto Rico:
Thousands of protesters
including union leaders and students marched in San Juan to demonstrate against massive layoffs planned by Governor Luis Fortuño.
* U.S.:
At least ten people believed to be illegal immigrants from El Salvador, Guatemala, Honduras were killed when the van they were riding in
crashed in Arizona
.
Image-
CNN
("Mexican soldiers hold rifles Saturday during a clash with organized-crime suspects in Acapulco.")
Online Sources- Reuters, LAHT, AFP, UPI