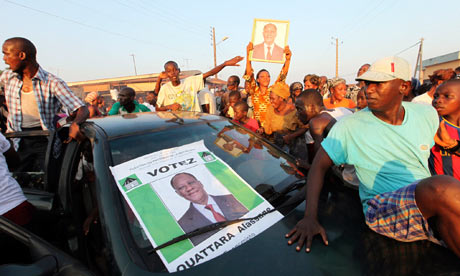 * Africa:
Ivory Coast
officials are divided
as to who won last week's presidential elections while tensions continue in Guinea after opposition leader Alpha Conde was declared as
president-elect
.
* India:
As the 26th anniversary of the Bhopal industrial disaster approaches, some victims are
seeking $1.1 billion
in compensation from Dow Chemicals.
* World:
According to a new survey released by Pew Research Center most Muslims in countries with large Islamic populations
rejected Al Qaeda
as well as the tactic of suicide bombings.
* Spain:
An increased tobacco tax and pension reforms could be
the next steps
to strengthen an already weakened Spanish economy.
Image – Luc Gnago/REUTERS via
The Guardian
("Supporters of opposition leader Alassane Outtara in the city of Gagnoa, Ivory Coast. The president's camp alleges vote rigging.")
Online Sources- Bloomberg, Reuters, BBC News, CNN