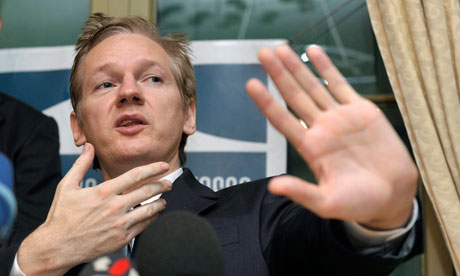 The fallout from the Wikileaks
document dump
continues with several new diplomatic cables revealed in the past 24 hours. Before getting to some of them, however, it's worth noting an unusual aside in this already unusual story.
According to media reports yesterday WikiLeaks founder and chief Julian Assange would be permitted safe haven in the South American country of Ecuador. Deputy Foreign Minister Kintto Lucas allegedly told the local press that the controversial figure would be permitted to speak and ply his trade freely in Ecuador. "We are open to giving him
residency in Ecuador
, without any problem and without any conditions," said Kintto according to the BBC News.
Last night, however, Ecuadorian president Rafael Correa rejected inviting Assange to his country. "Kintto Lucas's quoted comment was a
spontaneous, personal
response to a question from a local journalist and garnered attention due to the high international interest in the WikiLeaks story," read part of a statement from the Ecuadoran embassy in Washington.
So what other documents has Wikileaks recently revealed and related to Latin America? Here's a sample:
A 2006 State Department cable alleged that Cuban intelligence officers advise Venezuelan President Hugo Chavez. The cheekily titled "Cuba/Venezuela Axis of Mischief: The view from Caracas, also implied that Chavez trusts Cuban intelligence more than the security apparatus in his own country.
A 2009 note from U.S. diplomats in Havana claimed that the Cuban government provided "refuge" to members of the Basque separatist group ETA as well as Colombian guerillas. Nonetheless, the cable noted, "there's a slim probability that they are conducting terrorist operations from Cuba."
Brazilian Defense Minister Nelson Jobim denied allegations in a leaked 2008 cable that said that he believed that a deputy foreign minister at the time "hates the United States." Another note on Jobim claimed that he was upset at the "imprudence" shown by the U.S. by not seeking regional support for its controversial plan to expand its military presence in Colombia.

Ultimately, however, is the Wikileaks ploy much ado about nothing? Two Latin American leaders
think so
:
Peruvian president Alan Garcia, who has a famously sharp tongue, has already dismissed the Wikileak cables as only "gringos'" opinions and therefore, while embarrassing, "totally irrelevant"…

As Luiz Inácio Silva da Lula, the Brazilian president, said on Tuesday: "The things I have seen about Brazil are so insignificant they don't deserve to be taken seriously."

Image- Martial Trezzini/EPA via
The Guardian
("WikiLeaks founder Julian Assange now faces calls from some quarters in the US for his arrest and extradition on espionage charges.")
Online Sources- Too many to list!