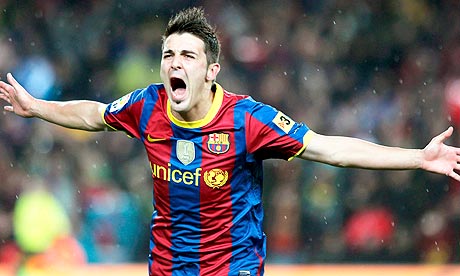 * Spain:
The latest edition of
the Spanish

clasico
turned into a 5-0 walk in the park for FC Barcelona over bitter rivals Real Madrid.
* Egypt:
Hundreds of protesters took to the streets of Cairo to demonstrate against alleged
voting irregularities
.
* Asia:
According to the Japanese press representatives of that country, South Korea, and the U.S. will meet next week to
discuss the crisis
on the Korean peninsula.
* Switzerland:
First it was banning the construction of new minarets, and now Swiss voters backed a referendum measure
to expel foreigners
convicted of serious crimes.
Image – Andreu Dalmau/EPA via
The Guardian
("David Villa celebrates after scoring his second and Barcelona's fourth against Real Madrid.")
Online Sources- Voice of America, Reuters, Christian Science Monitor, CNN