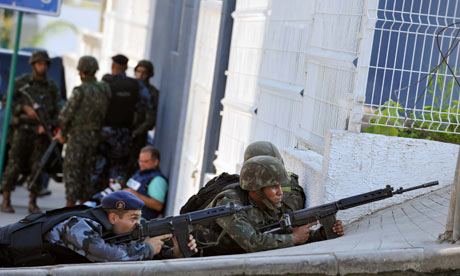 * Brazil:
President Luiz Inacio Lula da Silva praised police and the army for their crackdown on drug gangs
in Rio de Janeiro
.
* U.S.:
Could
the "Tequila Party
" become the next burgeoning U.S. political movement?
* Central America:
Panama and Costa Rica launched a health program to
combat the spread
of malaria along the border between both countries.
* Mexico:
Troops uncovered eighteen bodies buried in
a Chihuahua ranch
near the border with Texas.
Image – KeystoneUSA-ZUMA/Rex Features via
The Guardian
("Security forces were deployed to a poor area of Rio de Janeiro to tackle a wave of gang violence.")
Online Sources- BBC News, UPI, MSNBC, Xinhua