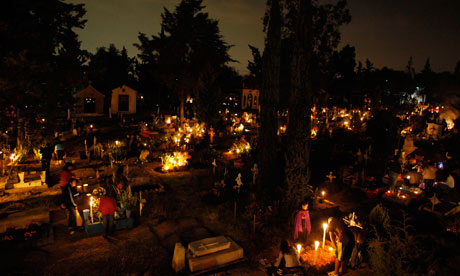 * Mexico:
Mexicans commemorated the
Day of the Dead
this week with mourners honoring deceased ancestors, friends, and family.
* Uruguay:
The country's Supreme Court ruled that an amnesty law protecting members of the 1973-1985 dictatorship
is unconstitutional
.
* Venezuela:
A "high-level Venezuelan official" could be
extradited to Spain
where he's suspected of training ETA separatists.
* Guatemala:
Missouri's high court will start hearing arguments next week in the case of a possibly illegal
Guatemalan adoption
.
Image –
The Guardian
("A cemetery during the Day of the Dead celebrations in San Gregorio, Mexico. Photograph: Alexandre Meneghini/AP.")
Online Sources- Reuters, LAHT, CNN, Kansas City Star