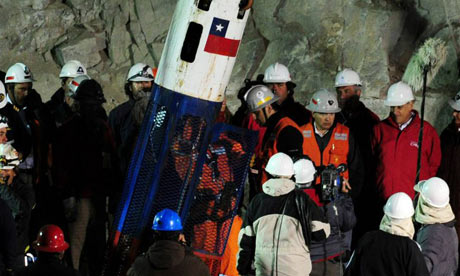 Some things are too difficult to believe.
The 33 Chilean workers freed from a caved-in mine last month have become celebrities both domestically and internationally. (Just ask amateur Elvis impersonator/future marathon runner
Edison Pena
). Plans are in the works in Hollywood to make a featured film (directed
by Madonna?
) on the rescued miners though one upcoming movie could raise plenty of eyebrows.
As reported by the EFE news service, Chilean director Leonardo Barrera announced that he would be behind the lens
of a porn film
on the freed workers. "The intention is not to show a massive orgy on the screen" but rather to do something serious said the adult film auteur to Chile's Radio Cooperativa. He viewed the miners "not as heroes but as victims of a broken system" that "provoked" the mine accident that left them trapped underground for approximately 69 days.
Barrera's "vision" may
include "anecdotes"
on the 24-hour rescue mission and the tale of philandering worker Yoanni Barrios. The film will supposedly be titled "La Mina Se Comio los 33", ("The Mine that Ate the 33"), a very risqué title since "mina" is a slang term in Chile for an
attractive young lady
.
It's unknown if any of the rescued workers will receive or share
any of the profits
from the film by Barrera.
Image-
The Guardian
("Photograph: Martin Bernetti/AFP/Getty Images.")
Online Sources- stuff.co.nz, Gawker, El Tiempo, La Cuarta, Urban Dictionary, The Telegraph