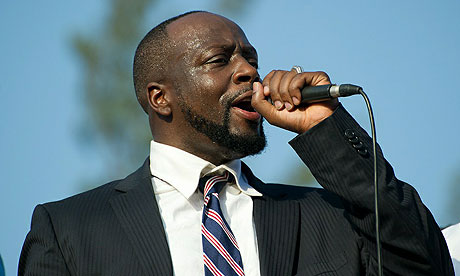 On Friday Haiti's provisional electoral council ruled that musician Wyclef Jean was
ineligible to run
for the Caribbean country's presidency. Though the council did not specify why Jean was disqualified from running it had been rumored that he never fulfilled the residency requirement of living five straight years in Haiti.
After initially saying that he would abide by the council's decision Jean went on the offensive yesterday vowing that
he would appeal
. "We have met all the requirements set by the laws. And the law must be Respected" said Jean on his Twitter page and he claimed that his attorneys would seek an appeal sometime today. He further alleged that politics, not the law, was
behind the decision
that halted his run for Haiti's highest office.
A spokesman for the election board told the AP that Jean has yet to file paperwork seeking to overturn the tribunal's decision. That could be
a moot point
according to one analyst who told the Christian Science Monitor that the "decision is final and there can be no appeal." Yet Jean's supporters
strongly back him
:
Many people in Jean's hometown have voiced their support for him. "I love what Wyclef is doing," said Paul Jean Augustine, a 27-year-old mechanic. "We're ready to die for Clef, and without him there's no election. We are with him 100%."

Image- The Guardian
Online Sources- The Latin Americanist, The Age, Christian Science Monitor, New York Times, The Guardian