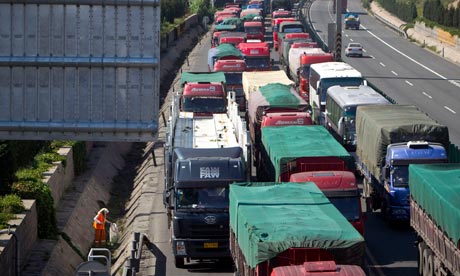 * China:
A "
mini-economy
" of food vendors and "opportunists" has grown amidst a 60-mile traffic jam that has lasted almost two straight weeks.
* Pakistan:
Hundreds of thousands of Pakistanis continue to be stranded and in dire
need of help
as floodwaters continue to rise.
* U.S.:
The Wikileaks website published a February 2010 C.I.A. report that examined how nations could view the U.S. as an "
exporter of terrorism
".
* Afghanistan:
55 people including 49 schoolgirls were treated in a Kabul hospital after supposedly
being poisoned
.
Image –
The Guardian
("A cleaner picks up waste beside the Beijing-Zhangjiakou highway in north China's Hebei province. Roadworks are blamed for causing the 60-mile jam that has lasted 10 days. Photograph: Alexander F. Yuan/AP")
Online Sources- Vancouver Sun, The Guardian, BBC News, CBC