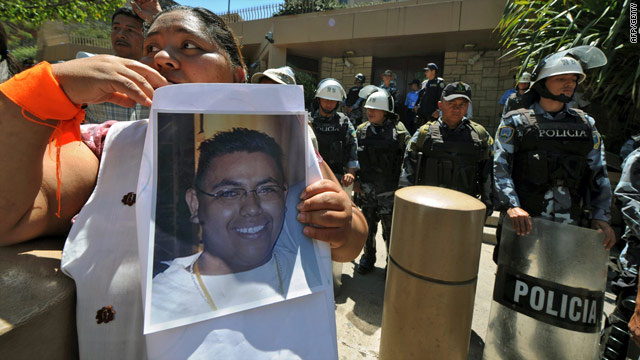 Yesterday we examined the risks of
reporting in Mexico
yet an even worse crisis has developed for members of the media in Honduras.
Radio International broadcaster Israel Zelaya Diaz was found
shot to death
in San Pedro Sula on Tuesday. Police have yet to report a motive in the death of the veteran journalist who worked in the press for more than 20 years. But a pair of his former colleagues told the Committee to Protect Journalists (CPJ) that Zelaya's "
home was damaged
in a fire of undetermined origin three months ago."
International media groups like the CPJ have strongly condemned Zelaya's death as well as those of other Honduran journalists. A communiqué from Reporters Without Borders called for authorities to
"give priority"
to the possibility that Zelaya's death was related to his work.
In addition
:
"While the motive behind the attack on Mr. Zelaya is not yet known, we would like to again underscore the fact that Honduras has become one of the most dangerous countries in the world for journalists," said Anthony Mills, press freedom manager at the International Press Institute.

In May, a group of U.N. human rights experts urged officials to create an "
independent inquiry
" into the violence and harassment against the Honduran press. The Inter-American Commission on Human Rights noted in April that the government led by President Porfirio Sosa "
bears responsibility
for safeguarding civil liberties and human rights."
Image- CNN ("Family and friends of murdered journalist Joseph Hernandez Ochoa protest in front of the U.S. embassy" in April).
Online Sources- CNN, The Latin Americanist, Canadian Press, Committee to Protect Journalists, Reporters Without Borders