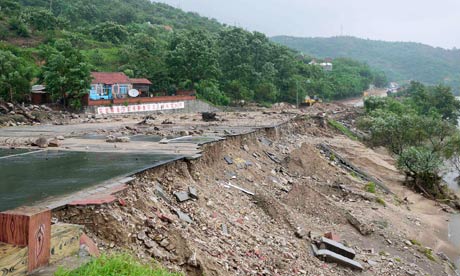 * World:
At least 300,000 people were evacuated due to a
series of floods
in parts of China while recovery efforts
have just begun
in flood-ravaged Pakistan.
* Middle East:
With key peace talks coming up next week Israeli and Palestinian representatives have
been quarreling
over issues such as security concerns and settlements.
* Australia:
Leaders of the country's two main political coalitions are forced to seek political alliances after
neither group
won a majority of parliamentary seats in Saturday's elections.
* Philippines:
Eight people including seven hostages died after a former police officer briefly
took control
of bus filled with Chinese tourists in Manila.
Image –
The Guardian
("A road along the Yalu river which was destroyed by a flash flood. Four people have been killed and more than 100,000 evacuated in the border region between China and North Korea. Photograph: Jacky Chen/ Reuters Photograph: Jacky Chen/Reuters.")
Online Sources- Reuters, CNN, The Age, BBC News, CBC