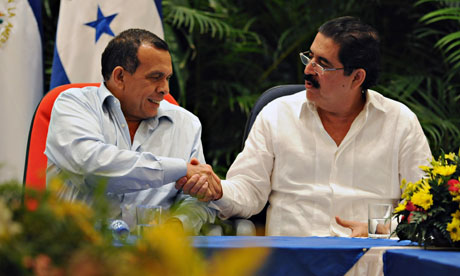 This afternoon members of the Organization of American States (OAS) overwhelmingly voted in favor of
readmitting Honduras
after an almost two year absence.
All but one of the thirty-three representatives voted in favor of reinstating Honduras, which was suspended from the hemispheric body in the wake of the June 2009 ouster of former President Manuel Zelaya. The "rule of law has not been completed…Repressive impunity continues," said Ecuadorian diplomat Maria Isabel Salvador who placed the lone vote in objection.
Yet Salvador's views were not entirely shared by the other representatives that were willing to give Honduras the vote of confidence. "The
significance of this
cannot be understated," said Grenada ambassador Gillian Bristol, according to the MiamiHerald.com.
Several events over the past month worked in favor of Honduras' reinstatement including Zelaya returning to his homeland after courts dropped corruption charges against him. (According to the AP, the possibility that Zelaya could face trial was
a sticking point
for several countries including Argentina, Brazil, and Nicaragua). Before returning from exile, Zelaya and current president Porfirio Lobo signed a "
reconciliation pact
" that also facilitated Honduran reinstatement to the OAS.
Several rightwing commentators in the U.S. were highly critical of the process behind Zelaya's return to Honduras. Former Assistant Secretary of State Roger F. Noriega considered Venezuelan leader Hugo Chavez as
a puppet master
content with either a "friendly government" in Honduras or a failed state where his "allies in the illegal drug trade will prosper." Ex-Bush administration official José R. Cárdenas also blasted Chavez and added his criticism for Colombian president
Juan Manuel Santos
who helped broker the Zelaya-Lobo agreement.
Meanwhile, a group of eighty-seven U.S. legislators sent a letter to Secretary of State Hillary Clinton critiquing her support of Honduras' reinstatement. In e-mail message we received earlier today, the letter allegedly urged the State Department (DOS) "to vigorously press the Honduran government to take concrete steps to end abuses by official security forces by suspending, investigating and prosecuting those implicated in human rights violations."
In response, a DOS spokesman said today that the U.S. "will
continue to work
with the Lobo government to promote greater respect for human rights in Honduras."
Image- Elmer Martinez/AFP/Getty Images via
The Guardian
("The Honduran president, Porfirio Lobo, (left) shakes hands with ousted former leader Manuel Zelaya in Colombia over an agreement to allow the latter's return to his homeland.")
Online Sources- Department of State, Fox News, Foreign Policy, MSNBC, BBC News, MiamiHerald.com, El Universal