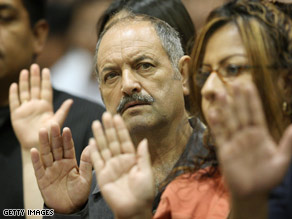 * U.S.:
Will the growth in the Latino population in the U.S. be more political beneficial to the
Democrats
or the
Republicans
?
* South America:
Santos of Brazil
is the first finalist
of this year's Copa Libertadores after holding on to beat Paraguay's Cerro Porteno by a 4-3 aggregate score.
* Bolivia:
Iranian defense minister Ahmad Vahidi was booted
out of Bolivia
after strong objections from Argentine officials and Jewish groups.
* Guatemala:
Otto Perez, who lost in in the previous presidential race in 2007,
is the favorite
in the polls to win the presidency in September's elections.
Image –
CNN
Online Sources- Huffington Post, Politico.com, The Telegraph, Reuters