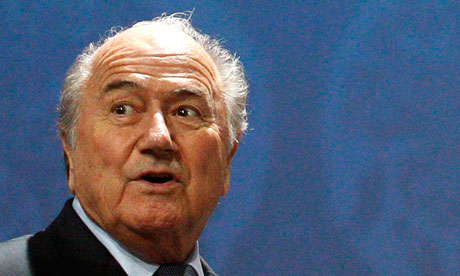 Joseph Blatter was reelected today to a fourth term as president of FIFA, the world's governing soccer body. He thanked the 186 of the 203 representatives who backed him and he vowed to "put FIFA's ship back on the right course in clear, transparent waters" in light of
numerous controversies
that have plagued his presidency.
Blatter ran unopposed after the president of the Asian Football Federation, Mohamed Bin Hammam, dropped his bid due to bribery allegations. An ethics committee found that Bin Hammam "
set up bribes
for 25 presidential voters in the Caribbean" as part of his failed campaign. He and FIFA Vice President Jack Warner of Trinidad and Tobago where subsequently fined and suspended based on the committee's recommendations.
The whistleblower against the two men was made by FIFA executive board member Chuck Blazer of the U.S. who was described as "a longtime
ally of Warner's
". Despite claiming that he gave Bin Hammam and Warner cash bribes,
Blazer was rehired
as general secretary of the North and Central American and Caribbean soccer region hours after he was fired.
Blatter's reelection bid was nearly railroaded due to the possibility that there
was wrongdoing
behind awarding the 2018 and 2022 World Cups to Russia and Qatar, respectively. The head of England's soccer association, whose country was the favorite to be awarded the 2018 tournament, attempted to postpone today's vote. Most FIFA members soundly rejected that suggestion and preferred to
kowtow to Blatter
.
One of the
most odd remarks
regarding FIFA wrongdoing came from Julio Grondona, president of the Argentinian FA and head of FIFA's finance committee. It was, for lack of a better term, stupid:
In an interview with a German press agency on Tuesday, Grondona called England "pirates" and added: "Yes, I voted for Qatar, because a vote for the US would be like a vote for England, and that is not possible.

"But with the English bid I said: Let us be brief. If you give back the Falkland Islands, which belong to us, you will get my vote. They then became sad and left."

Image- Christian Hartmann/Reuters via
The Guardian
(Sepp Blatter continues as FIFA president after easily winning another reelection).
Online Sources- FIFA, NPR, New York Times, Los Angeles Times, The Guardian, CSMonitor.com, ESPN Soccernet