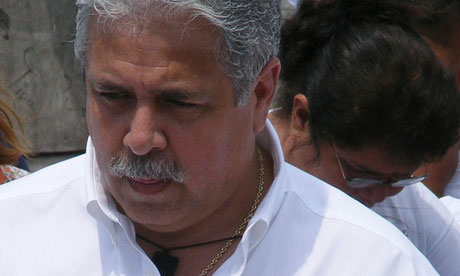 In the most high profile murder of a Mexican politician since
Luis Donaldo Colosio
in 1994, gunmen killed the frontrunner in the race for Tamaulipas governor.
Drug gangs have
been blamed
for the assassination of Rodolfo Torre on Monday. Torre was slain along with three others when they were ambushed and attacked at an airport outside the state capital city. Torre ran a strong campaign against the Zeta and Gulf cartels who have fought a
bloody turf war
was in the northern state of Tamaulipas.
The former legislator allied to the PRI political party had a 30-point lead in the polls ahead of elections on July 4th. It is unknown for now if the PRI will select
another candidate
to replace him or if the elections will occur as scheduled.
(

Update
:
Federal officials said that Sunday's elections will go ahead as planned.)
"This was an act not only against a candidate of a political party but against democratic institutions, and it requires a united and firm response from all those who work for democracy," said Mexican president Felipe Calderon hours after Torre's murder. Unfortunately, June has been one of the
bloodiest months
since Calderon took office, which includes 85 murders over one 24-hour period.
Torre's death comes as the latest killing of
local politicians
either aspiring to or already in office in Mexico's violent border areas:
Jose Guajardo Varela, a mayoral candidate for the Tamaulipas town of Valle Hermoso, was murdered in May after receiving multiple threatening warnings to abandon his election bid…

Several political parties said they were at a loss to find anyone willing to run for mayor in some towns and border states because of the danger posed by drug gangs, the AP reported.

Image- The Guardian
Online Sources- Milenio, Xinhua, Christian Science Monitor, The Guardian, New York Times, New York Daily News