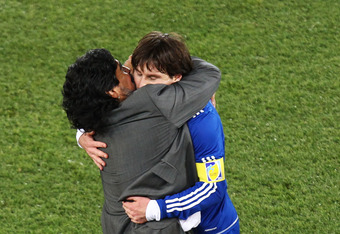 Having watched the World Cup qualifiers, in which Argentina struggled to even make the tournament and got
drubbed 6-1 against Bolivia
, I felt certain that the
albiceleste
could only succeed in spite of, not because of, their coach Diego Maradona.
But now, after watching four games in which Maradona's Argentina have run gracefully over their opponents, I'm picking the Argentines to take home the Cup. And why? I'm even more surprised that it's because of the same Maradona
I expected
to run them into the ground.
While the Brazilians of Dunga have
displayed an unmatched technical prowess
and the Germans have been methodically, well, German, in picking apart their opponents, the
utter passion that Argentina has shown
in their games has been nothing short of remarkable.
I'll be the first to admit I don't quite understand the Maradona reverence. I get it, in the sense that the flawed hero holds a special place for true sports fans. By sometimes showing the worst of themselves, the tragic athlete keeps us on the edge of our seat, wondering what will happen next.
The blog
BigPondSport says it best
:
Almost, but not quite, single-handedly, the Argentina manager has made World Cup 2010 worth watching. His manic presence on the sidelines is almost as mesmerising as was his majestic presence on it.

More so than perhaps any other footballer, Maradona has enthralled and enraged in equal measure; a man blessed with angels and cursed by demons; a man who had everything before snorting it up his nose.
So the reverence makes sense, but I never thought that would turn a man who'd previously coached 23 games (with just 3 wins) into a solid coach. Players-turned-coaches are aplenty is sports, but usually it takes a while to make the transition. Does Maradona have tactical expertise to match his World Cup peers? I'm not sure, but boy does he love his players, and they love him in return. Even taking cultural practices into account, the Argentine coach hugs and kisses his players (with surprising and in its way, touching frequency) like they're his own sons. In return, his players show a passion for their coach that may just propel them to a repeat of Argentina's 1986 glory.
If Maradona pulls this off, his legend will be forever cemented. Perhaps just in time for him to self destruct, insult everybody he feels doubted or disrespected him, and then start the whole, wonderful process over again.
Online Sources: GoalyMoaly, BigPondSport, Goal.com, ESPN Soccernet