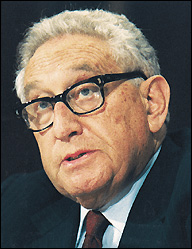 * Will
Uruguay
request the extradition
of former U.S. Secretary of State Henry Kissinger?
* Relatives of slain journalist Bradley Will suspect Mexican officials were behind his death last October in Oaxaca.
* Chileans are rediscovering herbal medicine from the indigenous Mapuche people, according to Reuters.
* First it was George W. Bush, now it's Canadian Prime Minister Stephen Harper who will be touring Latin America.
* Where in the world is Che Guevara? According to an ex-CIA agent it isn't at his supposed burial site in Cuba.


Links- UPI, Prensa Latina, The Latin Americanist, CTV.ca, Washington Post, WNBC
Image- NNDB.com