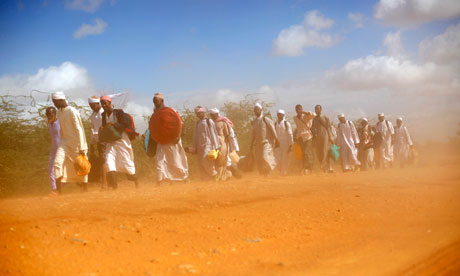 * Africa:
Donors at the African Union summit pledged
$351 million in aid
to combat a spreading famine though some activists expressed doubts over the figure.
* World:
Typhoon Nanmadol
is expected to bring heavy rains and whipping winds to Taiwan and the Phillipines while the East Coast of the U.S. is bracing for
Hurricane Irene
.
* Libya:
The search continues for Moammar Gadhafi while rebels continue
to make progress
in Tripoli against loyalist forces.
* Sri Lanka:
President Mahinda Rajapaksa announced that he would end the country's
emergency wartime laws
that have been in the books for nearly three decades.
Online Sources - Voice of America, CBS News, MSNBC, Bloomberg, Reuters
Image Source - AP via
The Guardian
("Muslim clerics walk along a dirt road outside Dadaab, eastern Kenya. A forthcoming interactive will look at the relief effort in the area.")