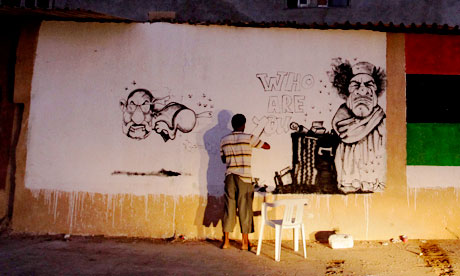 * Libya:
The almost 42 years of rule under Muammar Gaddafi
are close to over
as rebels battle loyalists in Tripoli though reports that one of his sons, Saif al-Islam, was detained seem
to be premature
.
* India:
Support seems to be growing for Anna Hazare, an anti-corruption social activist who has been
on a hunger strike
for over a week.
* U.S.:
Prosecutors in New York have requested
that a court drop
sexual assault charges against ex-International Monetary Fund chief Dominique Strauss-Kahn.
* Syria:
According to the U.N. over 2200 people have died in a
government crackdown
against dissidents and protesters since early March.
Image – Sergey Ponomarev/AP via
The Guardian
("An artist paints a caricature of Muammar Gaddafi on a wall in Benghazi. The once-ubiquitous Libyan dictator is nowhere to be seen.")
Online Sources- Al Jazeera English, MSNBC, CSMonitor.com, BBC News