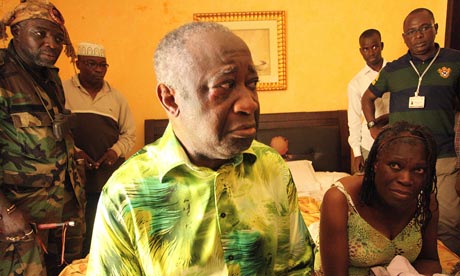 * Ivory Coast:
Disgraced former president Laurent Gbagbo may face "
judicial proceedings
" after he was detained by French and opposition forces.
* Japan:
No tsunami warning was issued after a 6.3-magnitude earthquake struck off
the Japanese coast
one month after a major tremor and tsunami killed an estimated 25,000 people.
* Belarus:
President Alexander Lukashenko claimed that a deadly bombing in the Minsk metro on Monday might've been a "
gift from abroad
."
* France:
Two Muslim women were arrested for peacefully protesting France's ban on
wearing face veils
in public.
Image – Str/AFP/Getty Images via
The Guardian
("Former Ivory Coast president Laurent Gbagbo and his wife Simone after their arrest.")
Online Sources- Busninessweek, USA TODAY, BBC News, The Guardian