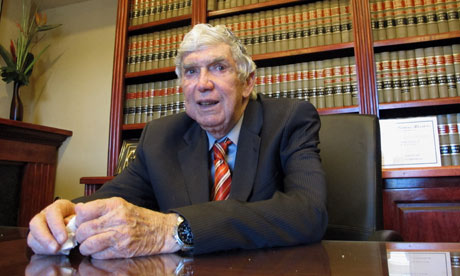 * Cuba:
The Economist's blog
on the Americas blasted last week's U.S. court ruling absolving ex-CIA operative Luis Posada Carriles of criminal charges yet suggested he could be sent to Cuba in exchange for
imprisoned contractor
Alan Gross.
* Uruguay:
By a razor-thin margin the Uruguayan Senate approved a measure that would
eliminate an amnesty
for crimes committed during the country's 1973 to 1985 dictatorship.
* Central America:
Costa Rican and Nicaraguan diplomats met on Tuesday and discussed
several border disputes
between the two states.
* Brazil:
Police arrested a Rio de Janeiro politician and accused him of running a violent
"paramilitary" group
.
Image – Juan Carlos Llorca/AP via
The Guardian
("Cuban anti-communist and former CIA agent Luis Posada Carriles has been cleared on 11 charges of perjury, obstruction of justice and immigration fraud.")
Online Sources- The Economist, The Latin Americanist, Press TV, People's Daily Online, BBC News