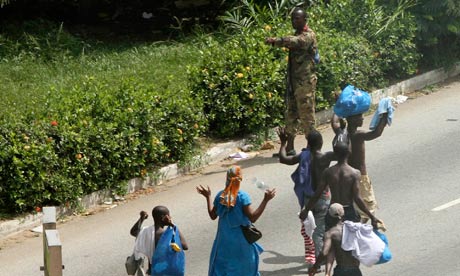 * Ivory Coast:
Forces loyal to internationally recognized President Alassane Ouattara have supposedly taken over
the presidential palace
while U.N. and French troops
have fired against
soldiers loyal to incumbent President Laurent Gbagbo.
* China:
Contemporary artist Ai Weiwei has reportedly "disappeared" as part of a
"massive" crackdown
by Chinese authorities "on lawyers, writers and activists."
* Yemen:
At least 12 protesters
were killed by "Yemeni security forces and gunmen in civilian clothes" in the city of Taiz.
* U.S.:
Could the commander of U.S. forces in Afghanistan soon
become the next head
of the Central Intelligence Agency?
Image – Luc Gnago/Reuters via
The Guardian
("Civilians pass a pro-Gbagbo soldier near the presidential palace in Abidjan.")
Online Sources- The Guardian, BBC News, NPR, Voice of America, MSNBC