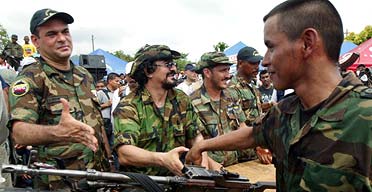 * Colombia:
The Obama administration implied that a subpoena should
not be issued
against former Colombian President Alvaro Uribe in a lawsuit accusing Drummond mining company of hiring paramilitaries.
* Brazil:
In potentially bombshell allegations made by Veja magazine, militants linked to Al Qaeda, Hezbollah, and Hamas are supposedly
hiding out in Brazil
.
* Cuba:
Ex-U.S. President Jimmy Carter ended
his three-day visit
to Cuba last week by criticizing the U.S. embargo on the island as well as calling for greater freedom of expression for anti-Castro dissidents.
* Nicaragua:
Former U.N. General Assembly Miguel D'Escoto Brockmann of Nicaragua
rejected rumors
of becoming Libya's envoy to the U.N.
Image – Zoe Selsky/AP via
The Guardian
("Salvatore Mancuso (left) with paramilitary soldiers near Turbo, Colombia." The former head of the AUC paramilitary umbrella group currently sits in a U.S. prison accused of drug trafficking).
Online Sources- MSNBC, Xinhua, Reuters