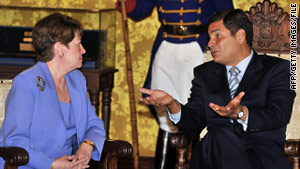 Last month,
Carlos Pascal resigned
from being U.S. Ambassador to Mexico after Wikileaks unearthed several diplomatic cables where he blasted Mexican antidrug efforts. Today another U.S. ambassador in the Americas could meet a similar fate.
Ecuadorian Foreign Minister Ricardo Patino government claimed that U.S. envoy Heather Hodges is a "
persona non grata
" and requested that she leave the country. He accused her of not providing a satisfactory answer regarding how she obtained "restricted information" on the Ecuadorian police.
The main gripe against Hodges has to do with a cable
uncovered by Wikileaks
where she alleged that corruption was entrenched in Ecuador's national police. She raised a number of accusations against ex-police chief Jaime Aquilino Hurtado including widespread bribery, protecting certain companies, and human trafficking. She also claimed that President Rafael Correa was aware of corruption allegations against several senior police officials.
Patino emphasized that Hodges' expulsion was meant as a gesture against her and would not lead to a severing of U.S.-Ecuador relations. Nevertheless, State Department officials deemed the Ecuadorian government's
move as "unjustified"
and defended her as one of the most "experienced and talented" members of the U.S. diplomatic corps.
Approximately six months ago Correa declared that he would purge "bad elements" in the Ecuadorian police for participating in an
alleged coup attempt
against him.
Today's action comes a week after Mexico's foreign relations office
criticized Correa
for remarking that drug gangs control all of Mexican territory.
Image- AP/Getty Images/File via
CNN
("Ecuadorian President Rafael Correa talks with U.S. Ambassador Heather Hodges in Quito in October 2008.")
Online Sources- Reuters, The Guardian, Semana.com, El Universal (Venezuela), BBC News, El Universal (Mexico)