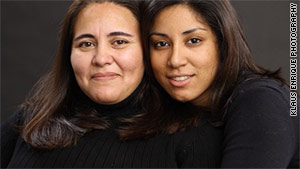 Numerous denunciations have been presented over the past week to the Inter-American Commission on Human Rights on issues including discrimination against Haiti's
LGBT community
and the possible pitfalls of U.S.
immigration policy
. A court decision last week regarding a bi-national lesbian couple could have a great impact on on both of these issues in the U.S.
Immigration judge Terry Bain suspended the deportation order against Monica Alcota to Argentina. Alcota wed her U.S. citizen spouse, Cristina Ojeda, last year in Connecticut, one of the few U.S. states that recognizes same-sex marriages. Alcota was under threat of deportation after overstaying her visa yet
Bain delayed it
at least until December in order for the couple to petition for federal recognition of their marriage.
For heterosexuals, non-citizens can usually gain legal residency by marrying a U.S. citizen but this privilege is not permitted for gays. The 1996 Defense of Marriage Act (DOMA) bars federal recognition of same-sex marriages though several recent court decisions have declared unconstitutional several "
core elements
" of the law. In Alcosta's case, Bain
reportedly agreed
with government lawyers on last month's White House directive ordering the Department of Justice (DOJ) to not defend the DOMA clause specifying marriage is a union between a man and a woman. (It's worth noting that DOMA continues to be federal law and that the Obama administration's order specifies that the DOJ should
keep enforcing
that law).
The immigration court's decision may've
led to a policy "shift"
announced yesterday:
The government will no longer automatically deny applications for immigration benefits for same-sex couples, opting to put them on hold until it gets some legal advice on the Obama administration's decision to stop defending the law that prohibits gay marriage.

The decision to put off deciding the fate of applications for immigration benefits from gays and lesbians married to U.S. citizens is not a change in policy, said Chris Bentley, a spokesman for U.S. Citizenship and Immigration Services.

Image- Klaus Enrique Photography via CNN ("Monica Alcota, left, of Argentina and Cristina Ojeda, a U.S. citizen, were married in Connecticut last year.")
Online Sources- La Verdad, EFE, CNN, Voice of America, Huffington Post, Forbes.com, New York Daily News