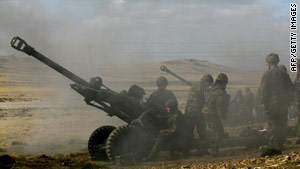 Diplomacy between Argentina and Britain has been strained for decades due to competing claims of sovereignty over the Falkland Islands/Islas Malvinas. The lowest point in bilateral relations was
the Falklands War
in 1982 though both countries continue to quarrel over the archipelago located nearly 300 miles from the Argentine coast.
The latest kerfuffle over the Falklands concerns British plans to conduct military exercises on the islands. A spokesman for the British Foreign Office told CNN that such
maneuvers are "routine"
, conducted on a regular basis, and part of standard military procedure. (During military exercises carried out last year British officials said they
were necessary
to prepare "the regiment's training for deployment in Afghanistan.")
The Argentine government responded to the British plans with indignation and disappointment. Deputy Foreign Minister Alberto D'Alotto sent a "formal and energetic"
letter of protest
to British diplomats over the exercises that will reportedly include the deployment of missiles. Argentina's Ambassador to the U.N. also said that he would present a formal complaint addressing "the United Kingdom has been
failing to comply
with several UN resolutions all these past years." The government may also present complaints to the UNASUR regional bloc as well as the Organization of American States.
The governments of Venezuela and Uruguay have given their
strong support
to Argentine President Cristina Kirchner over this latest dispute. In several postings to her Twitter account that were later deleted, Kirchner
vigorously critiqued
the upcoming British military drills:
"Serious, very serious," Mrs. Kirchner wrote. "Royal Navy, occupying colonial force in Falkland Islands, reports military exercise with missiles on the coast of East Falkland.

"Typical nineteenth century colonialism. Anachronistic use of force in violation of international law. They do not care. A clear example of double standards."

Image- CNN ("Britain, which fought a war against Argentina over the Falklands, keeps a military presence on the islands.")
Online Sources- globalsecurity.org, The Latin Americanist, CNN, UPI, Reuters, Buenos Aires Herald, Clarin.com, The Telegraph