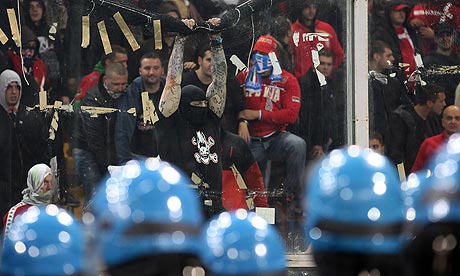 * Europe:
The Euro 2012 soccer qualifier between Italy and Serbia in Genoa was suspended reportedly due to
the disruptive antics
of a group of visiting fans.
* Sudan:
A 2005 peace agreement that ended Sudan's civil war is in
danger of failing
after talks over a disputed region ended without a resolution.
* Hungary:
Could more vigilant inspectors have
prevented the wave
of toxic sludge that swept through several towns and killed at least eight people?
* Israel:
An Israeli court convicted a Palestinian
"protest leader"
who organized demontstrations against a wall being erected along the West Bank.
Online Sources - Voice of America, MSNBC, BBC News, Reuters,
Image -
The Guardian