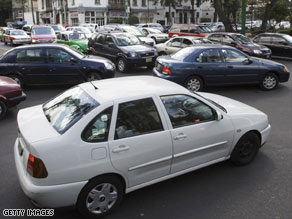 * Mexico:
An IBM study concluded that the traffic in Mexico City and Beijing
is the worst
among twenty major cities worldwide.
* Peru:
Scientists recovered the fossil of a massive
prehistoric whale
that existed over twelve million years ago.
* Chile:
According to recently declassified documents the
CIA was involved
in the assassination of one of Salvador Allende's closest supporters in 1971.
* Argentina:
In a unique tit-for-tat,
visiting Syrian president
Bashar al-Assad pledged to support Argentina's claims to the Falklands in exchange for Cristina Fernandez de Kirchner's backing
of Syria's claims
to the Golan Heights.
Image –
CNN
(Traffic in Mexico City).
Online Sources- MSNBC, The Latin Americanist, Washington Post, AFP, Reuters