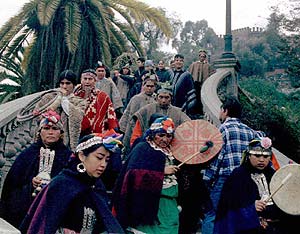 * Chile: Have Chilean authorities unfairly harassed foreign documentary filmmakers researching the indigenous Mapuche community?
* Latin America: "It is high time for the United States to redefine its approach to regional aid, not merely in the name of friendship but also in its own interest," said Costa Rican president Oscar Arias in a must-read op/ed piece from the Washington Post.
* Paraguay: After meeting with newly-inaugurated leader Fernando Lugo, Venezuelan president Hugo Chavez promised to provide Paraguay "with all the oil it needs, right to the last drop".
* Panama: A U.S.-led military exercise involving several countries of the region focused on defending the Panama Canal "from an attack by a fictional terrorist group bent on damaging the world economy."
Image- elmundo.es
Sources- Upside Down World, Washington Post, Reuters, The Latin Americanist, Reuters UK