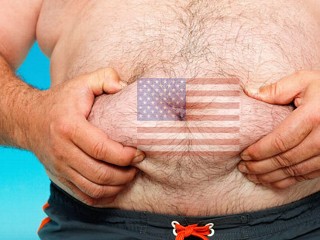 * U.S.: In a worrying trend affecting the general population of the U.S., a study found that obesity rates have increased in 37 of the country's 50 states. Meanwhile, a report released last week by the Pew Hispanic Center concluded that roughly 1 in 4 Latinos don't receive regular health care.
* Brazil: The country's Justice Ministry said that they had approved the extradition of detained Colombian drug capo Juan Carlos Ramirez Abadia to the U.S. for trial.
* Mexico: The governor of one of the most violent states in Mexico advocated for "a new strategy" in the seemingly losing battle against organized crime.
* Ecuador: Catholic bishops issued a statement expressing their displeasure with the draft constitution backed by President Rafael Correa.
Image- ABC News (No, it's not a picture of my gut though it's not that far from the truth!).
Sources- The Latin Americanist, UPI, Catholic News Agency, Houston Chronicle, ABC News, Las Vegas Now