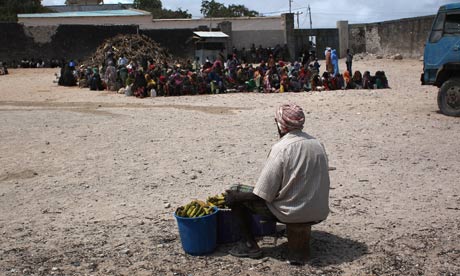 * Africa:
Oxfam called on African leaders to do more to alleviate
a growing famine
while Human Rights Watch accused numerous political actors for exacerbating Somalia's
humanitarian crisis
.
* Germany:
On the fiftieth anniversary of the construction of the Berlin Wall a
minute of silence
was observed to pay respect to those who died while trying to cross the barrier.
* Iraq:
At least 74 people died as the result of a
series of bombings
in thirteen Iraqi cities.
* China:
A Buddhist monk called for the return of the Dalai Lama to Tibet by setting
himself on fire
.
Image – John Moore/Getty Images via
The Guardian
("People await food aid distribution in Mogadishu. Human Rights Watch say Somalia's warring factions have exacerbated the crisis.")
Online Sources- Voice of America, Bloomberg, BBC News, The Guardian, MSNBC