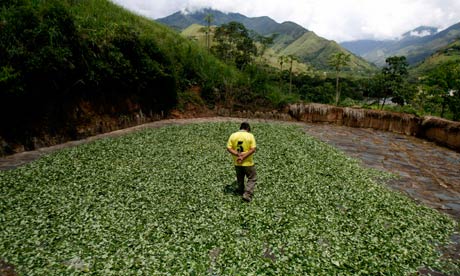 * Peru:
A statement from the U.S. State Department said that the agency doesn't feel that "the temporary suspension of (Peruvian coca) eradication this week represents
a permanent shift
in the government's counternarcotics policy."
* Brazil:
Spanish fashion chain Zara was accused by Brazilian authorities of the mistreatment and
exploitation of workers
in a Sao Paulo facility.
* U.S.:
An ex-Salvadoran army colonel accused of being involved in the 1989 murders of six Jesuit priests was found
living in impunity
in Massachusetts.
* Venezuela:
After months of legal wrangling the family members of the late President Carlos Andres Perez reportedly reached a deal that would permit him to
be buried in Venezuela
.
Image – Mariana Bazo/Reuters via
The Guardian
("A coca farmer in Tingo María, Peru." According to The Guardian, Peru's prime minister claimed, "the government was committed to reducing the illegal crop and would convene a special panel next month to chart a strategy that would stress alternative development, 'social inclusion and fighting poverty'.")
Online Sources- AFP, The Guardian, UPI, Reuters