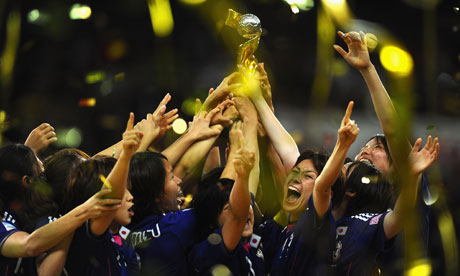 * Japan:
In one of
the biggest upsets
in women's soccer history a plucky and determined Japanese squad beat the U.S. to capture the Women's World Cup.
* Britain:
The media phone hacking scandal has
claimed the scalps
of Scotland Yard police chief Sir Paul Stephenson and former News International chief executive Rebekah Brooks.
* Egypt:
Ex-president Hosni Mubarak is believed to be in stable medical condition and
not in a coma
as was originally rumored.
* U.S.:
The Chinese government is upset that U.S. President Barack Obama
held private talks
at the White House with the exiled Tibetan spiritual leader, the Dalai Lama.
Image – Mike Hewitt/Fifa via Getty Images via
The Guardian
("Japan players celebrate winning the women's World Cup after beating USA on penalties in the final.")
Online Sources- USA TODAY, The Guardian, BBC News, The Independent