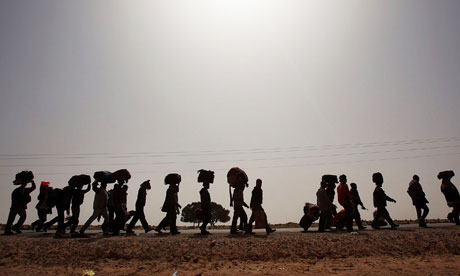 * Libya:
According to the AP a Red Crescent official claimed that pro-Gadhafi soldiers are
preventing the escape
of tens of thousands of refugees attempting to leave Libya.
* Denmark:
The country's immigration minister was fired after
she wrongly refused
granting citizenship to three dozen stateless Palestinians.
* Yemen:
At least several dozen protesters are reported to be injured after
security forces fired
on anti-government demonstrators.
* Ivory Coast:
A protest against the massacre of seven women ended with soldiers shooting and
killing four people
.
Image – Spencer Platt/Getty Images Europe via
The Guardian
("Libya's border with Tunisia has seen thousands of migrant workers crossing over – but the number has fallen dramatically.")
Online Sources- ABC Online, MSNBC, BBC News, The Guardian