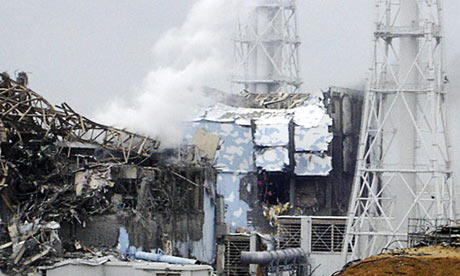 * Japan:
Authorities keep
trying to control
an ailing nuclear power plant in northeastern Japan while stocks
worldwide tumbled
due to fears over the Japanese economy.
* Libya:
UN secretary-general Ban Ki-moon called for an "
immediate ceasefire
" though intense fighting continues between factions loyal to and opposed to Muammar Gaddafi.
* Iran:
Could boxing legend Muhammad Ali help free
two U.S. hikers
imprisoned in Iran?
* World:
European police uncovered what is
believed to be
the world's largest child pornography network with an estimated 70,000 members.
Image – AP via
The Guardian
("The severely damaged unit 4 of the Fukushima nuclear complex in northeastern Japan. Behind it, white smoke billows from unit 3.")
Online Sources- MSNBC, Reuters, BusinessWeek, Al Jazeera English