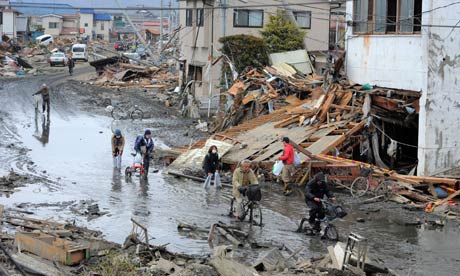 * Japan:
The death toll from Friday's earthquake and tsunami in Japan rose to
at least 3373 people
though the country's disaster preparedness system was credited with saving
hundreds of lives
.
* Bahrain:
Hundreds of anti-government protesters were
injured in clashes
with domestic security forces and troops from neighboring Saudi Arabia.
* Italy:
Prosecutors reportedly accused Italian Prime Minister Silvio Berlusconi with having
sex thirteen times
with an under-age Moroccan teen.
* Ivory Coast:
Violence
has intensified
between factions loyal and opposed to Ivorian President Laurent Gbagbo.
Image – Kim Jae-Hwan/AFP/Getty Images via
The Guardian
("Residents on a devastated street in Ishinomaki in Miyagi prefecture on Tuesday.")
Online Sources- Xinhua, BBC News, Voice of America, BusinessWeek, MSNBC