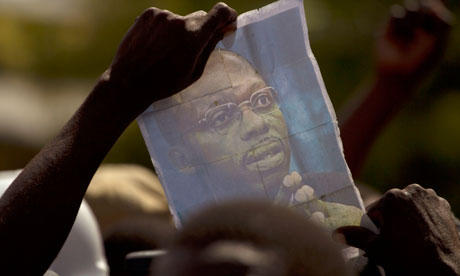 Update (12:00 pm):

From

the AP (via NPR):

Former Haitian President Jean-Bertrand Aristide returned home from seven years in exile to a celebrity welcome Friday, mobbed by close allies and journalists outside his private plane before being hustled into an airport VIP lounge as crowds of supporters rallied in the streets outside the terminal.

Aristide waved and blew a kiss to the small crowd at the runway, then began to deliver a speech in which he thanked his chanting, jubilant supporters. His wife, Mildred, wept.

"This man is our father, without him we haven't lived,'" said 31-year-old Sainvil Petit-Frere, one of about 3,000 cheering and chanting supporters in a quickly growing crowd. "This is the doctor who will heal the country.'"
Update (10:30 am):

According to the AP a plane carrying ex-president Jean-Bertrand Aristede and has family landed safely minutes ago in Haiti.
Former Haitian president Jean-Bertrand Aristide is on his way back to the Caribbean country according to several news reports.
Aristide, who was exiled after a 2004 uprising,
boarded a plane
in the South African city of Johannesburg along with "his wife, Mildred, their two daughters and U.S. actor and political activist Danny Glover, The Associated Press reported." He departed on Thursday night and is scheduled to arrive in Haiti around noon local time.
As we mentioned
on Tuesday
, Aristide's return to Haiti was opposed by U.S. diplomats who worry that his arrival could destabilize Sunday's presidential runoff election. Indeed, it has been reported that U.S. President Barack Obama called his South African counterpart, Jacob Zuma, and urged him
to prevent Aristide
from leaving. (South African officials previously said that they could not stop him from returning to Haiti).
Despite being out of power for nearly seven years Aristide still has some popular support in Haiti. (Thousands of his backers
last month
marched in Port-au-Prince and called for his return). Yet he may suffer a similar fate as recently returned ex-strongman Jean-Claude Duvalier who may be formally charged with
human rights abuses
. Aristide could face
criminal charges
according to the Miami Herald's website:
Following his ouster, Haiti's U.S.-backed interim government issued four blistering reports from two government investigative commissions, including one led by Haiti's current Minister of Justice Paul Denis. The reports alleged that Aristide had embezzled more than $20 million of his country's meager public funds for the benefit of his private charities, his political party and several private firms that existed only on paper. But the investigations stalled. His lawyers have always denied the allegations.

In a news conference shortly before he left, Aristide wished "a prosperous life and
all the best
" to his South African followers. It remains to be seen if "prosperity" awaits Aristide after he arrives in Haiti on Friday.
Online Sources - Seattle Times, The Latin Americanist, Reuters, MiamiHerald.com, BBC News, CBC News, Democracy Now
Image Source - Ramon Espinosa/AP via The Guardian ("Jean-Bertrand Aristide's picture is held up by a demonstrator protesting against Haiti's President René Préval.")