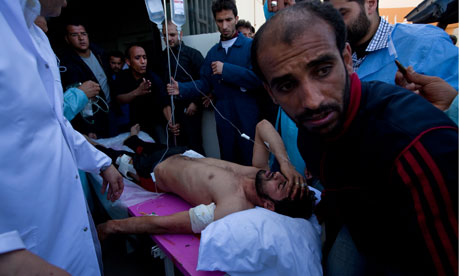 * Libya:
While unrest continues in Libya International Criminal Court chief prosecutor Luis Moreno-Ocampo said that he will investigate possible
crimes against humanity
perpetrated by the government.
* Japan:
Designer John Galliano's career may be over due to
anti-Semitic remarks
but it remains to be seen what repercussions await a Japanese boy band that appeared on TV wearing
Nazi-like uniforms
.
* Yemen:
President Ali Abdullah Saleh is
reportedly negotiating
stepping down later this year amid pressure from the opposition and swelling protests against him.
* U.S.:
According to researchers regular use of the painkiller ibuprofen could
reduce the risk
of getting Parkinson's by over one-third.
Image – "Sean Smith for the Guardian" via
The Guardian
("An injured Libyan rebel is treated at a clinic in Bregga, after pro-Gaddafi fighters attacked the town on Wednesday.")
Online Sources- The Guardian, MSNBC, BBC News, Voice of America, CBC News