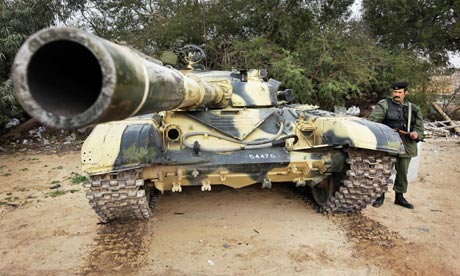 * Latin America:
Could the recent unrest in the Middle East and North Africa hinder Latin America's
economic growth
?
* Venezuela:
On a related note Venezuelan President Hugo Chavez rejected condemning Moammar Gadhafi and also called
for "prudency"
regarding Libya.
* Bolivia:
President Evo Morales vowed that homes would be built for approximately 4000 people left homeless after a
massive landslide
on Sunday.
* Brazil:
Increased oil production was credited as the main reason why Petrobras' latest quarterly profits
grew by 38%
.
Image – Ben Curtis/AP via
The Guardian
("Soldiers from the Libyan military's elite Khamis Brigade take up positions east of Zawiyah.")
Online Sources- UPI, MSNBC, CNN, Bloomberg