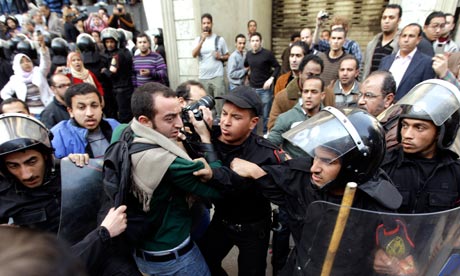 * Egypt:
President Hosni Mubarak could
suffer the same fate
as Tunisia's Zine El Abidine Ben Ali as he risks being ousted after a popular uprising.
* Tunisia:
Speaking of Tunisia the country's interim government issued
an arrest warrant
for the capture of Ben Ali and six of his relatives.
* Italy:
The pressure of the latest sex scandal seems to be getting to Prime Minister Silvio Berlusconi after he engaged in
a war of insults
with a TV talk show host.
* Russia:
The landmark "New START" nuclear disarmament treaty between Russia and the U.S. could
soon take effect
.
Image – Ben Curtis/AP via
The Guardian
("Mobile phone users film riot police blocking press photographers during a second day of protests in Cairo.")
Online Sources- The Guardian, AP, ABC News (Australia), The Telegraph