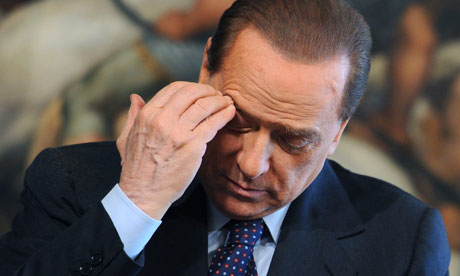 * Dominican Republic:
Dominican model Maria Ester Garcia Polanco is one of
the figures caught
in the middle of the most recent sex scandal implicating Italian Prime Minister Silvio Berlusconi.
* Nicaragua:
The ruling Sandinista party could ratify President Daniel Ortega to
run for reelection
though he may be constitutionally banned from doing so.
* South America:
A minor diplomatic spat has arisen after the cover for Chilean author Eduardo Labarca's latest book showed him
supposedly urinating
on the grave of Argentine wordsmith Jose Luis Borges.
* Mexico:
Bishop Samuel Ruiz, best known for campaigning for indigenous rights and acting as a mediator with the Zapatistas,
died on Monday
at the age of 86.
Image – Ettore Ferrari/EPA via
The Guardian
("Support for Silvio Berlusconi's party has increased from 28% to 30% this month, according to a poll published in Corriere della Sera.")
Online Sources- The Telegraph, The Guardian, The Tico Times, BBC News