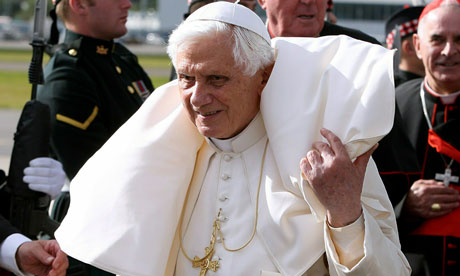 * Vatican:
Vatican authorities said that condom use
may be acceptable
to avoid the spread of AIDS and other diseases yet they are still "immoral" as a birth control device.
* Asia:
Tensions increased
between the two Koreas
after one of the most serious military clashes since the end of the Korean War in 1953.
* Germany:
Samuel Kunz, the "world's third most wanted" suspected Nazi,
died last week
near his hometown near Bonn, Germany.
* Ireland:
The Irish government has come under fire over approving an
$11 billion bailout
from the E.U. and I.M.F.
Image – Getty Images via
The Guardian
("The Vatican attempted to clarify the pope's comments about condoms.")
Online Sources- The Guardian, New York Daily News, ABC News, CNN